OUR MISSION STATEMENT
Just as the winner of a fantasy league is the player whose team has the most points in every category, the best baseball players in fantasy are those who garnered the most points in every category, compared to every player.
WHO IS BEHIND THIS? JOHN 3:16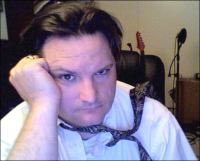 Rob Reed (blog | facebook | friendfeed | twitter)

is a Los Angeles personal injury lawyer, worship leader at LIFEhouse Church, hack musician, hack web programmer, and baseball enthusiast, who has been playing fantasy baseball in various incarnations for 18 years. He is an avid player of Baseball Manager, which he started playing in the early days when it was exclusive to the Prodigy online provider, and he has fared well in every season he has played since 1993, except for one when he was hit majorly by the injury bug.

For ten long years, he played in a roto league with a doctor, a few lawyers, and a few more sane individuals, and he failed to ever crack the top 3. In an attack of frustration, he got the bright idea to design a database that would rank players from the previous years, according to the fantasy categories. So, he got to work (with help from his wife), inputted player stats from 2004 manually, and got to work on the programming.

PLAYERtrack has been a labor of love, and -- as it turns out -- a lucrative one for Mr. Reed. For the first time in his ten years of participation, he ended the season in first place. Now, all of the other players in his league want a piece of this action. For the small price of $9.99 (draft kit), they now can have a piece... and so can you. As of February 1, 2011, PLAYERtrack is FREE!

His other website credits include BaseballGeeks (a baseball news, blogging, and discussion group), RRBBS (a general interest blogging and discussion group), and RobReed.com (personal blog).

He hosts the BaseballGeeks.com Podcast (link goes to podcast code), which can be found on Itunes (link goes to Itunes podcast page).
THE PLAYERtrack IDEOLOGY by Rob Reed (edited 2/10/11)
In my seventeen-plus years of playing fantasy baseball, I have learned three important things that form the basis of my PLAYERtrack system. 1. Rely on past success. 2. Stay away from "sleepers" until you already have a solid roster. And, 3. rely on BALANCE.
First, recent, past success of a player is usually the best indicator of the next year's level of success.
The goal is to try and get lucky by drafting a guy when he hits a peak of his career. To this end, I wanted to design a system that would ultimately show me who is likely to be poised for that career year. It is exactly because of PLAYERtrack, for instance, that I pegged Derrek Lee to be my first baseman in BOTH my fantasy leagues in 2005. I got him for in an auction league. I drafted him in the TWELFTH round of a serpentine draft league.
Second, I have been a victim of the hype machine that hypes new rookies far too many times. The reality is that 2001's Albert Pujols, 1996's Arod, and 1997's Nomar Garciaparra are the exceptions and not the rule. So, I let others pay the big bucks for unproven talent.
Third, balance is king. You don't need to have the BEST players in their particular positions, but you DO need to have the best BALANCE among all of the categories.
PLAYERtrack is designed to compare all of the players against each other, according to the statistics used in your league. And, you can use some peripheral statistics like strand rate (LOB%), batting average on balls in play (BABIP), and contact rate to make more educated guesses about future player performance.
Concluding, let other teams go for the glory of finding that new gem for cheap. New gems won't win you the league... they'll only show your fellow players that you know your baseball but don't know how to play the fantasy game. Look to create a team that is balanced in ALL categories.
In the end, PLAYERtrack will lead you in the right direction by meeting all of these goals.
I am always looking to improve the rankings, so if you have a suggestion, let me know!
WHAT IS IT?
PLAYERtrack is a baseball statistics chewer that ranks baseball players against each other using a roto-style scoring system. Players are given points based upon their ranks in the various categories, and the players are then ranked according to baseball statistics that you select.
Essentially, this system is like an interactive fantasy baseball magazine. Whereas the magazine is stagnant and does not allow you to pinpoint players who fit your needs at a given time in the draft, PLAYERtrack does exactly the opposite.
SCENARIO ONE (DRAFT): You are running out of money, but your 1B/3B spot on your roster is not filled in yet. You are happy with your team's power, but you need a 1B or 3B with speed (SB) and a great batting average. You do a search on PLAYERtrack for the highest ranked first baseman and then third baseman who has not yet been drafted by clicking the stat categories of SBs and AVG solely.
SCENARIO TWO (DRAFT): You are in a 4x4 NL-only league with ten teams. You have not yet filled your 4th and 5th OF spots, but every single OF that you can think of has been snagged. You can't even think of anybody, so PLAYERtrack to the rescue! You select the position OF, and you click all 4 of your league's stat categories. You click "Track'Em" and you look for the highest two OFs in the ranking who have not yet been drafted. Wow! Can it be that Matt Holliday hasn't been taken yet?
(Note on 2/28/08: Before you get crazy here, I am leaving this here because I wrote this before the season started in 2006, when Matt Holliday was not a household name in fantasy baseball. I drafted him that year when nobody expected superstardom from him, and I won the league).
SCENARIO THREE (SEASON): You just lost your best 1B for the season. You need to find the best available 1B using your league's categories. Your 1B was a key source for HR and RBI. You click the HR and RBI categories, select the 1B position, and search for the highest ranked 1B in HR and RBI who is not on any roster.
Try doing those things as easily with a stagnant, fantasy baseball magazine!
KEY UPDATES
2/1/2011 - The rankings have been updated to reflect how far a player falls above or below the "average" player in that particularly category. Previously, there were straight up comparisons that didn't reflect, for example, the dominance of a 2009 Jacoby Ellsbury