Comments on: 2008 Top 5 starters ERA and FIP, minimum 100 IP
by: Rob Reed | December 17, 2008, 3:52pm
&nbsp &nbsp &nbsp
Now that the FIP statistic is available here at PLAYERtrack, I decided to do a search of the top 5 pitchers in ERA and FIP, which -- if the FIP statistic is worth its weight in gold -- should predict pitchers who fared well in 2008 who should also fare well in 2009.

Presenting the top 5, starters, minimum 100 IP:

1) Cliff Lee: In 2008, he ranks 3rd in ERA (2.54) and 3rd in FIP (2.83), making him the #1 pitcher in all of baseball looking at these two categories solely.

In Cliff, we have a strange beast.

In 2005, Cliff was the 27th best pitcher in baseball according to PLAYERtrack. He posted a 3.79 ERA and a 3.97 FIP. These were his best figures until 2008, where PLAYERtrack ranked him as the #3 pitcher in all of baseball.

In 2006, his FIP was 4.66 (ERA was 4.31; PLAYERtrack rank of 92). In 2007, his FIP was 5.22 (ERA was 6.29; PLAYERtrack rank of 262!).

All through last season, I was predicting a major drop off because of his ugly stats the previous 2 seasons, yet it never happened. And, now, I want to justify my criticism by being able to point to a high FIP like I could have for Fausto Carmona in 2007 to show a predicted regression. But, I canít.

Cliff's K/9 went up by almost a full strikeout (+.75). Hitters actually fared better against him in 2008 (.274 BABIP), then they have since PLAYERtrack started recording pitching stats in 2005 (previous high was .269 in 2006).

Conclusion? By all appearances, Cliff Lee is here to stay as a top 10 starter.

2) Joba Chamberlain: I saw his debut as a starter in my first and only visit to Yankee Stadium in June of last year. He looked awful, but I chocked it up to nerves; and, essentially, I was right. Until his shoulder injury in August, he started to look like the solid starter that the Yankees hoped for.

While he went back to relieving in September and posted a respectable 2.50+ ERA in September, I think we have a lot of potential here for a top 10 starter who may not yet be thought of in this regard. (2.60 ERA - #5 - and 2.66 FIP - #2). Of course, the Yankees have to start him, and I suspect they will.

Adding Sabathia and Burnett will only improve the pitching morale on the team, and I predict a big year for Joba should he start. Something like 175 IP, 3.00 ERA, 190 K, 14 W. Why not?

3) Tim Lincecum: I have said it before, and I'll say it again. This guy's mechanics scare the bejeebus out of me. But he was flat-out amazing. The only downside is the team he plays for, but he still had 18 W, notwithstanding.

I drafted him for only $7 last year in my money league, and I ended up trading him (because I had Peavy and Sabathia and I needed power) for Chase Utley (since the hip surgery, you can bet I'm not happy with this deal now).

Barring injury (like from getting his hand caught in his butt during his delivery), he should be considered one of the most valuable pitchers in baseball going into 2009.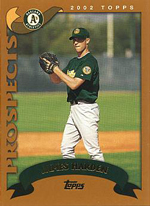 4) Rich Harden: My predicted AL Cy Young winner in 2007 was derailed by injury. His effectiveness, however, has far from derailed. Harden is flat-out filthy. His average BABIP since 2005? .202!

PLAYERtrack ranks him as the 7th best pitcher in 2008. A career high 11.0 K/9 and 2.07 ERA makes him a very attractive starter. Injury risk is the issue, but I like Harden's chances of 180 innings in 2009 (has to happen some time, doesn't it?), which would make Harden a pretty certain top 10 pitcher, given his track record.

His FIP indicates that he is more of a low-3.00's ERA pitcher, but that is fine by me.

5) CC Sabathia: I left him for dead in April. He made me look like a moron. And, as I kept him in my money league and will likely keep him for $23 in 2009, the wounds to my ego were not too serious.

The trade to the Yankees makes me think that an ERA regression to somewhere around 3.20 is reasonable. But, he still is one of the best pitchers in the game right now. His K/9 went up and he posted a career high 2.70 ERA after that ridiculously bad April. His 2008 FIP? 2.89. His 2007 FIP was 3.00 (2007 ERA = 3.21).





6/8/11: June Update podcast - Rob looks at pitchers about to break out and hitters about to break up... standard 5x5. PLAYERtrack is now FREE!

This text will be replaced by the flash music player.

Blogtalkradio.com: replays of this podcast and live call-in shows TBA!

Vyou.com: ask me a question and I'll make a video response!





Mike Trout: I suppose... by Rob Reed (April 6, 2013, 08:25pm)
Victor Martinez: Good question by Rob Reed (March 22, 2013, 04:42pm)
Victor Martinez: keeper question by bramos (February 28, 2013, 08:36am)
Adam Jones: Tearing it up... by Rob Reed (May 8, 2012, 03:40pm)
Bryce Harper: 19-years old by Rob Reed (May 7, 2012, 10:45am)
Johnny Cueto: k rate went down by Rob Reed (April 3, 2012, 04:18pm)
Alex Gordon: high babip and league avg contact by Rob Reed (March 27, 2012, 11:49am)
Mike Aviles: I like Aviles by Rob Reed (March 26, 2012, 04:03pm)
Mike Aviles: thoughts? by Brian Ramos (March 26, 2012, 01:38pm)
Sean Marshall: definitely by Brian Ramos (March 26, 2012, 01:34pm)
Sean Marshall: closer by Rob Reed (March 25, 2012, 11:51pm)
Matt Cain: surprised by Rob Reed (March 25, 2012, 09:15pm)
Jacoby Ellsbury: hellooooooo power by Rob Reed (March 23, 2012, 06:19pm)
Curtis Granderson: well, he didn't hit .285 by Rob Reed (March 23, 2012, 01:25pm)
Alex Rios: the stolen bases are done by Rob Reed (March 23, 2012, 09:08am)
Eric Hosmer: interesting by Rob Reed (March 23, 2012, 09:04am)
Greg Halman: R.I.P. by Rob Reed (March 22, 2012, 03:29pm)
Jed Lowrie: personally by Rob Reed (February 24, 2012, 02:37pm)
Hanley Ramirez: absolutely agree by Rob Reed (February 24, 2012, 02:34pm)
Hanley Ramirez: HanRam by DanO (February 16, 2012, 01:17pm)
Jed Lowrie: thoughts? by Brian Ramos (February 14, 2012, 03:26pm)






Advertise yourself here! Only $15/mo!